A competitive price will attract more prospective buyers.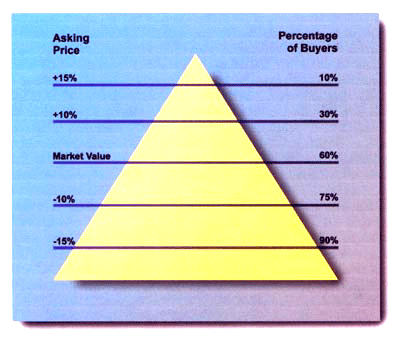 As the triangle graph above illustrates, more buyers purchase their properties at market value than above market value. The percentage increases even further when the price drops below market value. Therefore, if you price your property at market value, you are exposing it to a much greater percentage of prospective buyers and you are increasing your chances for sale.
Overpricing your home is more dangerous than underpricing it.
When you overprice your property, you push away serious Buyers. An overpriced home usually sits on the market longer and sells for a lower price than it would have if it had been intelligently priced from the first day on the market.
There is little, if any danger in underpricing your property. If your property is really underpriced, you will get multiple offers in a short period of time and the market will adjust your price upward. Your home will look better than the others in its price range.
This emotional buying motivator might bring you a igher price than if you had asked more for the property.
Subjects to keep in mind
when selling your home: